Construction Update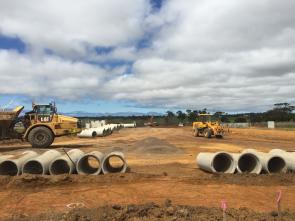 'Construction on Stage 1 has advanced significantly despite the wet conditions on site. Concrete works include driveways and footpaths are approximately 75% complete, light poles have been erected in Ashbury Boulevard and all internal services have been installed.
The Boundary Road re-alignmnet works have been hampered by services relocations, including a new water main that had to be constructed under pavement as well as the relocation of NBN optic fibre cables. All these issues have now been resloved and pavement works are progessing smoothly again.
Stage 2 and 3 services are 90% complete and construction of road pavements is underway. Challenges with the external sewer outfall have prevented service connections occuring in these two stages, however, construction of the sewer outfall is progessing well and is appoximately 85% complete.
Practical completion of the civil works for Stages 1, 2 and 3 is expoected in early July 2017.