ASHBURY CONSTRUCTION UPDATE APRIL 2018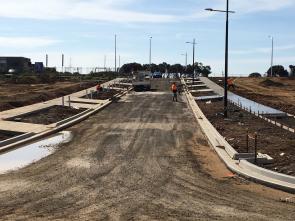 We are pleased to report that due to the good weather experienced over summer, construction at Ashbury has progressed very well.
All civil engineering services have been installed for stages 4 -7, concrete works are well under way and final roadworks are about to commence.
Construction on all four Stages is on target for completion in June 2018.
Installation of street landscaping to the estate's entryways, including turf, street trees and the striking entry sculpture is nearing completion.
In addition, construction of the retarding basin situated on the eastern boundary is complete, with only landscaping still to be carried out.
We will continue to keep you informed on progress at Ashbury.  In the meantime, if you have any questions please contact our sales staff at the Ashbury sales office on 1300 303 460.