Staying Local - Damian and Narelle
Staying Local - Damian and Narelle
September 2021 |
Meet Your Neighbours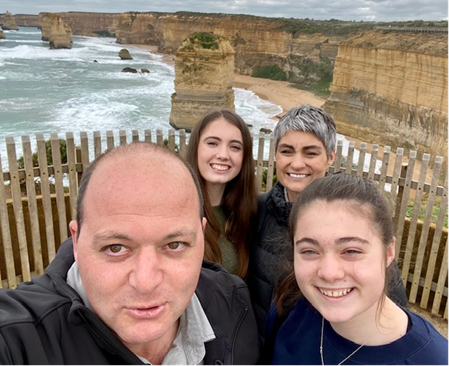 MEET DAMIAN & NARELLE RICHARDS.
Spring is well and truly here and there's been plenty happening at Ashbury over the past few months. 
Now home to over 1,000 people, the thriving, vibrant community is literally growing by the day. And future residents, Damian and Narelle Richards, can't wait to join them.
For the past 17 years, the couple have been renting in Torquay, where they and their young family made the most of the relaxed, coastal lifestyle. Keen to live a little closer to their daughters' secondary school in Geelong while still staying close to the coast, the first-time home buyers purchased land in Stage 15B in December last year. Currently in the process of building a family home at Ashbury, they couldn't be more excited about taking the next step in their life journey.
We took this opportunity to chat with Damian to discover what made the couple choose Ashbury.
There are so many factors to consider when purchasing land and building your own house. What made you choose Ashbury?
"There are so many physical things to like about Ashbury from its fantastic masterplan to the sensational location close to the city, but still just down the road from some of Victoria's best beaches. At the end of the day though, our decision was really based on gut feel. We just loved Ashbury's overwhelming sense of community, and the sense that this was our chance to join a quality, homely neighbourhood.
At a practical level Ashbury was also really affordable, with plenty of decent sized blocks available, made even more enticing at the time we purchased thanks to a cash rebate offer, if settlement was on time!"
The sales process can sometimes be a pretty overwhelming and daunting process. What were your biggest challenges? And how have the Ashbury Sales Team helped you and supported you along the way?
"Probably the biggest challenge we faced throughout the entire process arose right at the outset –Stage 15 was selling so quickly, we had barely any time to make a decision about whether to buy the specific block we wanted, get the land titled, settle and appoint a builder prior to end of 2020 – all so we could qualify for the $25,000 Federal Government Homebuilder Grant. It all added up to an incredibly stressful 2 months and believe me, we're both very glad that's in the past.
Throughout the process, Sharee and Matt from the Ashbury Land Sales Office were superstars. Not only were they incredibly supportive and knowledgeable, most importantly, they were endlessly patient and more than happy to help us 'first timers' out with many silly questions.
"Obtaining developer approval for our proposed façade in the limited timeframe available was also tricky, given the Homebuilder clock was ticking and we needed to complete our slab within 6 months of signing the building contract. Without developer approval, we wouldn't have stood a chance of doing this. But Sharee was so helpful about following up on our behalf. In fact, she was far more effective than our builder, and thanks to her prompt actions, we were able to meet – and beat, the deadline."
How did you decide what you wanted to build?
"We wanted a design with a floorplan which would maximise our block's aspect and capture the maximum amount of daylight."
Who is your builder and how did you select them?
"While we looked at several different builders, ultimately, we went with the ABN Group's Homebuyers Centre, based on all the quality inclusions in their home designs."
Any tips for anyone thinking about building their own home?
"Definitely! Like any big decision, the best advice is to do your homework up front and research, research, research. Work out exactly what you want in terms of inclusions and whether they 're right for you, because each block of land is so specific, in terms of orientation and aspect, making it really important to select a home design with a floorplan that will allow you make the most of yours."
When do you expect to move into your new home?
"At this stage we hope to move in, in November this year – just in time for summer, fingers crossed."
What are you most looking forward to about living at Ashbury?
"Well, we're looking forward to lots of things, but we're definitely really excited about the masterplan, with all those playing fields and open spaces – perfect for an active family like ours. We're also excited about joining and becoming part of such a lovely, friendly, welcoming community."
Would you recommend Ashbury to your friends and family? And if yes, what would you tell them?
"Absolutely! We were actually introduced to Ashbury by some friends, ourselves. So, we always encourage people to do what we did, to take a drive through the Estate and check it out – and when you do, you'll soon understand its appeal and why it's shaping up as one of Armstrong Creek's most popular addresses."