Construction Update January 2019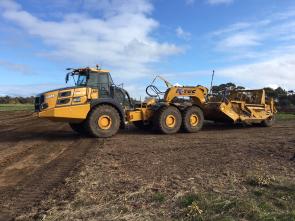 It's all good news on the civil construction front for purchasers of lots in Stages 8 – 11. Construction of key infrastructure works are now well underway; water and sewer works have been completed, and preliminary works on roads have commenced, along with curb and channel works underway in Stages 10 and 11  and early in the New Year for Stages 8 and 9.
With all works on track to be completed by May 2019, purchasers can look forward to receiving titles and settling on their lots in June.
Other Works
Adding to Ashbury's appeal to young families, a new playground in Stage 9 is also expected to be completed in April next year. Surrounded by River Red Gums, the playground will feature an assortment of play equipment, suitable for children of ages, as well as a shaded picnic area – making it the perfect place to relax and make the most of outdoor living at Ashbury. 
Other works also about to commence around the estate include:
Additional landscaping at the Ashbury Boulevard entry, including the installation of extra greenery, which will complement existing planting around the Land Sales Centre; and
Landscaping of the estate's Wetlands area, scheduled to kick off mid-way through the year, which is expected to encourage more wildlife to make their home within the estate.