Construction Update March 2017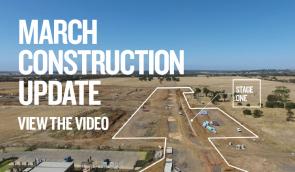 Welcome to the first video update of the construction and infrastructure works at Ashbury.
With the recent period of fine weather, construction activity has progressed quickly and we are delighted to see the first few stages of land within the Ashbury community now taking shape.
If you have purchased at Ashbury we hope you enjoy seeing the progress and we look forward to sharing more construction updates with you in the coming months.
PS. With extensive construction activity currently underway in and around Ashbury, road access to the Ashbury sales office has been closed for a short period of time. So we have temporarily re-located the Ashbury sales team to Maxwell Collin's offices at 55 Myers Street, Geelong.