What's New At Ashbury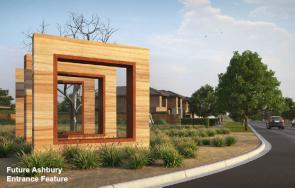 Works at Ashbury have been in full swing with a number of key features and elements well underway. Recent drone footage, now available on the website, shows the significant development to the streets, landscaping and infrastructure.
New greenery is starting to make its way into the Ashbury landscape, with 12 stunning Norway Maples taking pride of place down the central median, 7 Norway Maples flanking each side of the future Ashbury Boulevard, plus additional trees being planted to create a grand entrance as they mature over the coming years.
Standing tall at the entry to Ashbury amongst the trees is the recently completed stunning sandstone frame-like sculpture, which gives residents and visitors a snap shot of the stunning rural landscape through a touch of the seaside with a sandstone frame. Showcasing the true essence of Ashbury – where country meets the sea.
Adding further excitement to the Estate's development is the progress of the stunning wetlands on Horseshoe Bend Road, which will beautifully complement the healthy 16.5 hectares set aside for tree retention – soon to be home to a variety of protected flora and fauna that future generations at Ashbury will be able to enjoy.